HEY WHAT HAPPENED TO THIS SERVER WHY IS IT DOWN? ELUKA IF YOU SEE THIS WRITE TO ME ON SKYPE IRLLYLIKETRAINS :;/
Edit
If you have any pokemons that you do not use, you can sell them! All you have to do is find the pokemon collector in Celadon and say "Hi" then "sell" and then "Name Of The Pokemon You want to Sell" e.g. "Hi yes pidgeot" You will receive money and lose the pokemon. This Guy is located in Celadon, here: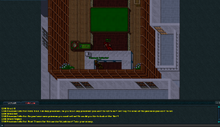 If you are wondering where you call sell your Plates ( e.g. Water Plate) You have to go to Pewter and find a guy called Norris Plates, Heres how the guy looks, and how to get there from PC in Pewter. In order to sell a plate all you have to do is say "Hi" then "Trade" !
ENJOY YOUR GAME
/ xRed

Ad blocker interference detected!
Wikia is a free-to-use site that makes money from advertising. We have a modified experience for viewers using ad blockers

Wikia is not accessible if you've made further modifications. Remove the custom ad blocker rule(s) and the page will load as expected.